Every day, millions of players worldwide enter the battle as one of over a hundred Dota Heroes in a 5v5 team clash. Dota is the deepest multi-player action RTS game ever made and there's always a new strategy or tactic to discover. It's completely free to play and always will be – start defending your ancient now.
From magical tacticians to fierce brutes and cunning rogues, Dota 2's hero pool is massive and limitlessly diverse. Unleash incredible abilities and devastating ultimates on your way to victory.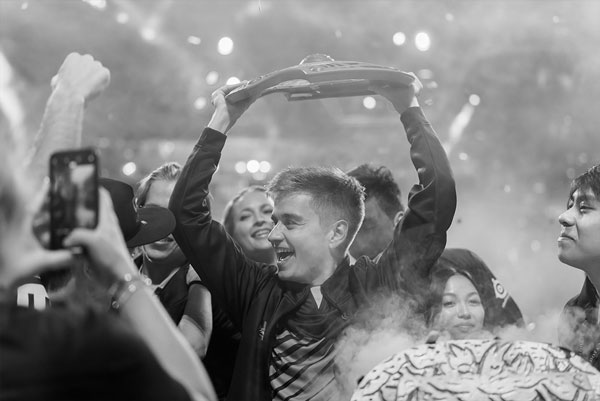 When not climbing the ranks, you'll be able to learn from the best. The Dota Pro Circuit features ultra-high-level Dota 2 competition streaming regularly in the game client, on Twitch and Steam.TV. Culminating in the largest e-sports championship in the world, The International, professional Dota 2 is an event not to be missed.
Dota 2 on Valve Corporationin kehittämä ja julkaisema strategiapeli Microsoft Windowsille, OS X:lle ja Linuxille. Peli on itsenäinen jatko-osa Defense of the Ancientsille, joka on yhteisövoimin kehitetty Warcraft 3 -pelin modi.
Dota 2:n julkaisija on pelitalo Valve, joka tunnetaan muun muassa Half Life- ja Counter-Strike -pelisarjoista. Dota luokitellaan usein MOBA-kategoriaan, mikä on lyhenne sanoista multiplayer online battle arena [taisteluareenamoninpeli].
Dota 2:n avoin beta-testaus alkoi vuonna 2011 ja loppui heinäkuussa 2013, jolloin peli julkaistiin virallisesti. Peli on tällä hetkellä yksi maailman suosituimmista peleistä, jolta löytyy miljoonia pelaajia päivittäin.
Dota 2 on pelattavissa ilmaiseksi PC:llä ja Macilla. Pelin voi ladata ilmaiseksi Steam-sovelluksella, jonka pelaamiseen tarvitsee.
– Päivittäin miljoonat pelaajat kautta maailman astuvat taistelukentälle yhtenä yli sadasta Dota-sankarista. Ja olipa kyseessä sitten heidän kymmenes tai kymmenestuhannes pelinsä, sieltä löytyy aina jotain uutta, kuvaillaan Dotaa pelin omilla kotisivuilla.
Vaikka peli on ilmainen, löytyy siitä mikromaksuja. Ostettavat tuotteet ovat joko lisäosia tai kosmeettisia ulkoasuja, joten mikromaksuilla ei saa konkreettisesti mitään hyötyä muihin pelaajiin.
Dota 2 News
The meta shake up resulted in the resurgence of a long-forgotten hero. Slardar didn't receive any direct buffs in 7.34e, but his lane dominance feels a lot more pronounced in the current patch. With some adjustments to itemization, the hero's power level can be insane, making him one of the toughest opponents to face.

As Dota fans ourselves we absolutely get it: this is not what we were expecting three whole weeks after TI. As a stats website, though, there are some interesting trends we would love to discuss. Dota is a very complex game with many interconnected moving parts and even miniscule changes can have massive consequences.

Hopefully the wait is almost over and soon we are once again going to be scrambling for more meta insights. New patch in Dota is always an exciting time, but it is also the best time to rank up and get ahead of the curve. Today we are going to talk about how to use […]

It usually takes a couple of weeks for a new patch to arrive after the International and now is the best time to discuss some of the changes we would love to see. Some of them are going to be very obvious, as there are definitely problematic pub heroes who are both strong and annoying […]

The dust is slowly settling after the biggest Dota tournament of the year and both the teams and the organisers are probably going to take a bit of a rest. That means that for a short period of time we get to collectively benefit from the lessons from the International and apply some of the […]

Last week we talked about how diverse and flexible the current meta is and the International keeps on delivering. No hero has over 90% contest rate, only three are above 80% and only nine heroes were completely ignored throughout the group stage and the beginning of the playoffs. Today we are going to talk about […]

To say that the International Group Stage had some unexpected results would be an understatement. Underperforming WEU, the return to glory for China and EEU dominance made for a very entertaining Group Stage, but the Road to TI has just begun and teams now have several days to re-evaluate their understanding of the meta and […]

Watching The International is very entertaining, regardless of how well you know the game. There are always big highlights, fight-turning ultimates and split-second outplays to be amazed by. But what if we said that the fight begins much earlier? That a big part of the battle happens during the drafting stage and it is when […]

If there is one thing that can further elevate your appreciation of the International, it is being emotionally invested in a team. There are many candidates worthy of your attention, but today we will concentrate on the few that stand out in one way or another: teams with rich history, to whom the International is […]

The International is just around the corner and today we want to discuss the most iconic TI heroes and how they fare in the current patch. Historically, TI always had its own meta, with an emphasis on reliable and powerful lockdown. This year might be different, though, as many iconic TI heroes are currently off-meta.
Dota 2 ranking