Every day, millions of players worldwide enter the battle as one of over a hundred Dota Heroes in a 5v5 team clash. Dota is the deepest multi-player action RTS game ever made and there's always a new strategy or tactic to discover. It's completely free to play and always will be – start defending your ancient now.
From magical tacticians to fierce brutes and cunning rogues, Dota 2's hero pool is massive and limitlessly diverse. Unleash incredible abilities and devastating ultimates on your way to victory.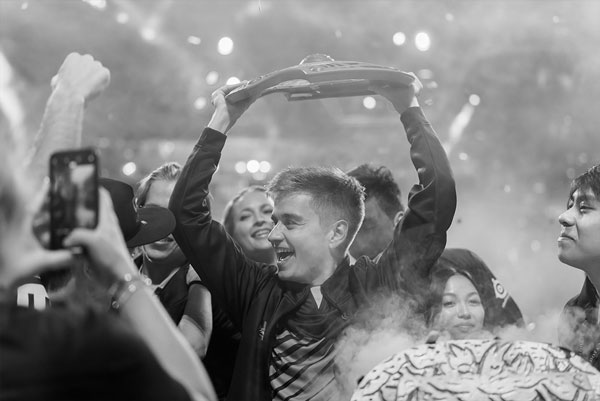 When not climbing the ranks, you'll be able to learn from the best. The Dota Pro Circuit features ultra-high-level Dota 2 competition streaming regularly in the game client, on Twitch and Steam.TV. Culminating in the largest e-sports championship in the world, The International, professional Dota 2 is an event not to be missed.
Dota 2 on Valve Corporationin kehittämä ja julkaisema strategiapeli Microsoft Windowsille, OS X:lle ja Linuxille. Peli on itsenäinen jatko-osa Defense of the Ancientsille, joka on yhteisövoimin kehitetty Warcraft 3 -pelin modi.
Dota 2:n julkaisija on pelitalo Valve, joka tunnetaan muun muassa Half Life- ja Counter-Strike -pelisarjoista. Dota luokitellaan usein MOBA-kategoriaan, mikä on lyhenne sanoista multiplayer online battle arena [taisteluareenamoninpeli].
Dota 2:n avoin beta-testaus alkoi vuonna 2011 ja loppui heinäkuussa 2013, jolloin peli julkaistiin virallisesti. Peli on tällä hetkellä yksi maailman suosituimmista peleistä, jolta löytyy miljoonia pelaajia päivittäin.
Dota 2 on pelattavissa ilmaiseksi PC:llä ja Macilla. Pelin voi ladata ilmaiseksi Steam-sovelluksella, jonka pelaamiseen tarvitsee.
– Päivittäin miljoonat pelaajat kautta maailman astuvat taistelukentälle yhtenä yli sadasta Dota-sankarista. Ja olipa kyseessä sitten heidän kymmenes tai kymmenestuhannes pelinsä, sieltä löytyy aina jotain uutta, kuvaillaan Dotaa pelin omilla kotisivuilla.
Vaikka peli on ilmainen, löytyy siitä mikromaksuja. Ostettavat tuotteet ovat joko lisäosia tai kosmeettisia ulkoasuja, joten mikromaksuilla ei saa konkreettisesti mitään hyötyä muihin pelaajiin.
Dota 2 News
With millions of dollars on the line for the most winning teams, it makes sense that the way that Dota is played would change as players strive to perfect their gameplay. Although the basic principles of Dota have stayed the same, some more advanced ideas have adjusted as new patches have come.

Pugna is undeniably one of the strongest and most annoying position five supports in the professional scene right now. He boasts a 70%+ win rate in the Major and is in the top three most contested heroes. Does it mean the hero can be as successful in pubs, or is Pugna too coordination-reliant to work […]

Wraith Pact is a mid to late-game item which received multiple buffs recently. The cost was reduced to 4000 gold, thanks to the recipe cost reduction to Vladimir's Offering. The aura's radius was buffed along with its mana regen and lifesteal. Despite boasting an impressive 67% win rate in pubs for being so cheap, it's […]

The Major is just around the corner, but we still have one more recap to go through. Today we are going to discuss teams from EEU and NA. Both regions had a long history of playing second fiddle to WEU in the Western Dota scene, but the former proved itself by winning the last TI […]

We are continuing our team preview series for ESL One Stockholm, today concentrating on the SA and SEA regions. Both are often associated with very high peaks, but lack consistency, and this Major will be indicative of whether they improved in this regard.

Fingers crossed, of course, but it looks like we are finally getting a LAN Major with an audience. It might not be ideal and we are not going to see teams from China, but it is definitely a step towards some semblance of normalcy, which is severely lacking nowadays. Today we are going to have […]

The final meta recap post. Today, we are going to concentrate on the first position, the importance of which was especially prominent in the previous patch. Does the new one hold carries in the same regard or has the game been balanced away from over-relying on carries is the question we would like to find […]

The last several patches did not feel particularly mid-centric. That doesn't mean the role isn't important, but there is definitely a shift from late-game oriented mids to more space-creating tempo ones. Or at least the ones that can come online fast and early.

Once again, we are looking at the top tier heroes, this time concentrating on the offlaners: the backbone of any good lineup. This is the role that usually changes the most from patch to patch and the one that had the most heroes released for it in the recent past. Patch 7.31 is not an […]

We are continuing our series about the most effective heroes in the current meta and today we are going to concentrate on the soft support role. Unlike position five, this role did get a decent shake-up in the last patch and it is time to see what works and why.
Dota 2 ranking